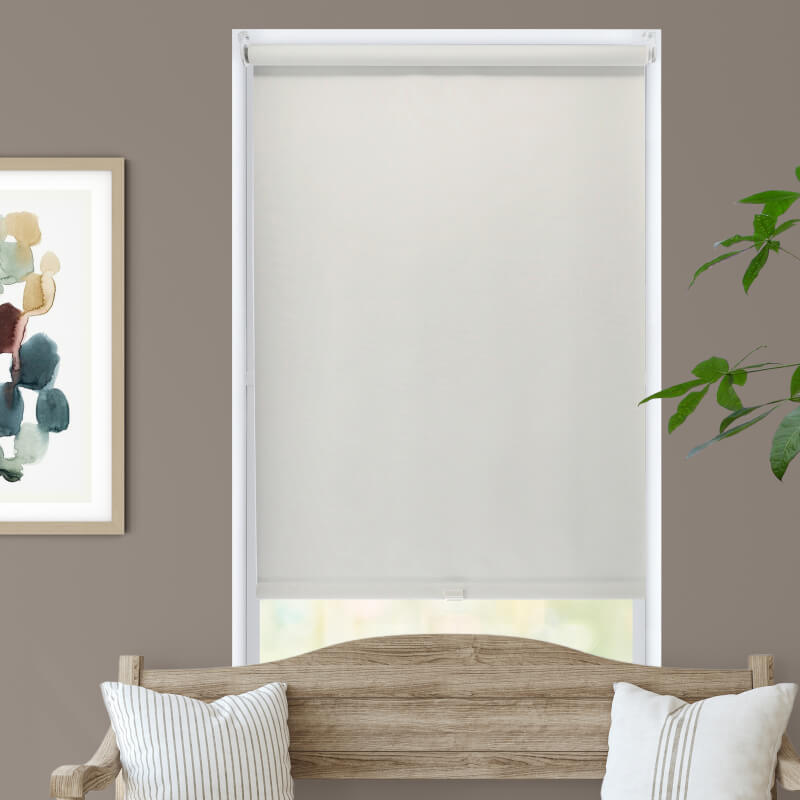 Product Configuration
Premium Blackout Roller Shades
SKU: BLN-SVBRS-CB
Reviews
4.8 out of 5 stars
99 Reviews
Estimated Ship Date:Sep 25th-Sep 27th
Whether it's morning, noon, or night, if blocking light from coming into your room is what you are searching for then you are looking at the right shade! The fabric on this roller shade is designed to block 100% of light which means sunlight, moonlight, and streetlamps will no longer prevent you from getting a good night's sleep (or a well-deserved nap).
read more
Measurements to the nearest 1/8 inch.
Inside mount shades are installed inside the window opening. Enter the exact size of the window opening NOT the size of the shade. The factory will make a small deduction from your width to allow space for the hardware and operation.
Outside mount shades are installed outside the window opening to trim, a wall, or a door. Enter the exact size of the shade you want to order. The factory will make no deductions.
A Nylon Beaded chain provides a clean look and loops around a tensioning mechanism attached to the wall or window frame. Pulling this chain hand over hand in a continuous fashion allows you to easily lift and lower your shade.
Lift Position
With the Cordless Spring Roll, a hidden spring inside the metal roller tube releases tension when you pull on the shade's hem, allowing you to easily raise and lower your shade.
Roller will be visible at the top.
The optional 3 1/2" contoured valance covers the roller at the top of the window and provides a clean, modern look.
60-Day Satisfaction Guarantee
Additional details
Product Description
The saying goes that there can be too much of a good thing. That holds true for light too, especially when too much coming through your window is disruptive. Whether it's the glare on your TV screen or bright light keeping you awake, our Premium Blackout Roller Shades are your solution for toning down that light and getting to your happy place. With these shades, pull them down a bit or all the way to get just the right amount of light or none at all. Your hand-picked options let you take control just the way you want.
Get to know this shade:
Attractive looking fabric with woven linen texture; includes a white acrylic backing
Blackout fabric allows 0% of light to pass through the shade
Wide spectrum of available sizes including extra-large widths and heights for picture windows
Premium design inside and out
Why you'll love this shade:
Fabric has contemporary looks but is durable and easy to clean, white backing provides neutral appearance to the street
Blackout fabric will block light trying to pass through the shade, providing a soothing darkened room when desired
Available contoured valance hides the fabric roll and helps block additional light from entering around the top of the shade
Upgrading to the cordless lift option for each operation and an uncluttered look (just make sure you can reach the top of the shade!)
All colors are also available in light filtering versions so you can keep the same color but adjust light control as needed in each room
Meets all CPSC requirements for child safety
Key considerations:
Some indirect light may still sneak around the shade even when fully closed; for a complete blackout experience consider laying window treatments
The fabric will be about 1 1/4" narrower that our ordered size in order to accommodate the operating mechanisms and brackets at the top of the shade
Estimated Ship Date:Sep 25th-Sep 27th
Product Specifications and Restrictions
Min Width

12 inches

Max Width

84 inches

Min Height

12 inches

Max Height

96 inches

Min depth for inside mount (without valance)

2 inches

Min depth for flush inside mount (without a valance)

2 ½ inches

Min depth for flush inside mount (with valance)

3 5/8 inches

Min flat space for outside mount (without valance)

1 5/8 inches

Min flat space for outside mount (with valance)

2 inches

Inside Mount Width Deduction

Approximately 1/8 inch

Fabric Width Deduction

Approximately 1 ¼ inches (applies to all roller shades regardless of mount type)
Product restrictions
Widths less than 22" wide are not available for Cordless lift
Plain tailored hem, no fringe/scallop options